Name:Floral Painted Wire

No:008

Time:Oct. 31

Views: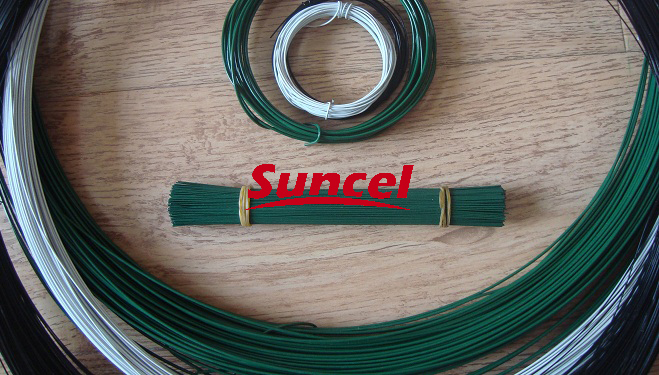 Florist Wire
Florist wire is also called painted Wire, we have three production line to make various color florist wire with high quality.
Wire diameter: 0.3mm-2.0mm
Color: green, black, white, red etc, or on your demand
Raw materials: mild steel wire, high quality paint
Character: inner iron core is smooth, paint is uneasy to be taken off
Package: coil, spool, wooden stick, plastic board, cut
Used: Chritmas tree making, fake flower making, food packing, refrigeration protecting, garbage bagging etc, also used in the making of high qualified gifts, handcrafts and gardening.
1. Coil Wire
Material inside: iron wire,galvanized wire,stainless steel wire,aluminium wire
Lacquered color: green,blue,black,red,golden,silver...
Wire diameter: 0.3-2.0mm
SWG34-SWG14
Weight: 500g-500kg/coil
Package: 500g-1kg/coil,1coil/plastic bag,10bags/carton
2kg-500kg/coil, bend up with sack
2. Straight Cut Wire
Material inside: iron wire,galvanized wire
Lacquered Color: green,red,blue,black,white...
Length: 20cm-60cm
8inch-24inch
Diameter: 0.3-1.6mm
SWG32-SWG16
Package: 2kg/carton,5kg/carton,1T/pallet?
3. Wire on Spool
Material inside: iron wire,galvanized wire,stainless steel wire,aluminium wire
Lacquered color: green,blue,black,red,golden,silver...
Wire diameter: 0.3-2.0mm
SWG34-SWG14
Weight: 50g-50kg/spool
Package: 50g-200g/spool,5spools/plastic bag;10bags/carton
1kg-50kg/spool, 1-10spools/carton
4. Wire on Wooden Stick
Kinds of wire: annealed wire,galvanized wire,lacquered wire
Wire diameter: 0.3-0.9mm
SWG34-SWG20
Weight: 50g/pc;100g/pc
Package: 20pcs/plastic bag,10bags/carton
5pc/box; 10boxes/carton
5. Wire on Plastic Board
Kinds of wire: annealed wire,galvanized wire,lacquered wire
Wire diameter: 0.3-0.9mm
SWG34-SWG20
Weight: 50g/pc; 100g/pc; 200g/pc; 330g/pc
Package: 1pc/plastic bag;10pcs/box, 5boxes/carton